Didn't mean to bail on everyone but we got this crazy ice storm on Thursday and then it dropped several inches of snow on top of that on Friday. Our power went on Thursday evening and stay off until Sunday afternoon. When the power finally came back on it took until around 9pm last night to get the house warmed up to 68 degrees. My dishsoap was frozen. Most of the contents of the refrigerator had to be thrown out and the household is just 'out of sorts'. It all around pretty much sucked.
Here are some pictures:
Our home and driveway - the limbs of the tree to the right do not normally slope downwards
This limb had fallen against the back of our house - thankfully it finally fell to the ground without putting out any windows
Several piles of limbs we stacked up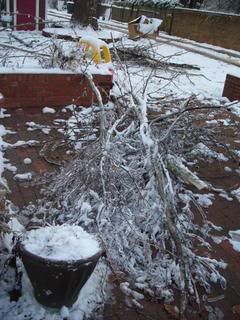 This limb landed on the roof of our bathroom
The next 2 photos are from outside my son's school
Oak trees are not supposed to look like this
A stand of trees by his school
It's been a crazy few days. I'm taking today and probably tomorrow to try and get my house in order and then I'll get back to posting. Hope everyone out there is staying warm.
And be grateful every single day for your electricity.